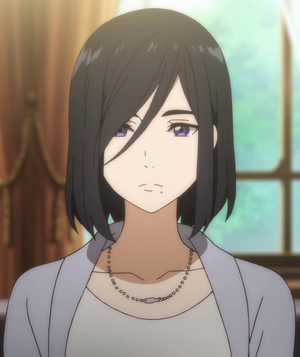 霞
Kasumi
Biographical information
| | |
| --- | --- |
| Alternative name(s) | Shadow's Servant |
| | |
| --- | --- |
| Age | 550+ (biologically 26) |
Physical description
Chronological and political information
Kasumi (霞, Kasumi), known under the alias of Shadow's Servant, is a highly skilled mercenary who travels across the world. She is considered one of the premier mercenaries in the world whose vast skillset makes her valuable to many people, ranging from revolutionaries and gang members, to kings and big political figures. Hailing from outside the four nations, Kasumi's allegiance is to those who are capable and willing to pay her price.
Kasumi was born the daughter of a warlord who ruled over a portion of the Fire Islands prior to their unification. As an infant, she was kidnapped by the Kemurikage who desired vengeance against all warlords. She was trained by the spirits as a ninja for centuries within the Spirit World so that one day they could be used against their own parents. However, when the Fire Lord united the islands, the Kemurikage's wrath was eased. Thus, Kasumi and the other trained warriors remained in the spirit world, trapped for what seemed to be eternity.
However, when Avatar Korra opened the spirit realms, she provided a pathway for Kasumi to reenter the human world that she had never experienced. With the Kemurikage's permission, she has entered the human world decades after the portals have been left opened. She travels mortal realms with the intentions of studying their culture for her own curiosity. Though, she simultaneously is tasked with observing and reporting their behaviors to the Kemurikage who do not quite believe in humanity's altruism. With the spirit portals open, mankind now has methods of mobilizing large forces into the spirit realm, which has concerned many spirits with echoes of conquest. Kasumi serves as their spy into humanity's affairs, and is tasked with their sabotage.
History
Early Childhood
Harmonic Convergence
Spirit World Departure
Appearance
Personality
Abilities
Relationships
Plot
Quotes
Trivia