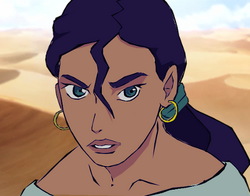 燃辣
Ramlah
Biographical information
| | |
| --- | --- |
| Alternative name(s) | Princess of the Red Storm, Gem of the Shayan |
Physical description
Personal information
Chronological and political information
| | |
| --- | --- |
| Profession | Mercenary, raider |
Ramlah is a formidable sandbender and the princess of the Shayan, one of the Sandbender Tribes of the Si Wong Desert. Ramlah's father, Azada, was the former leader of the Shayan until his assassination at the hands of the rival Hami Tribe, after which her uncle Khazem came to power. While originally trained by Khazem in the ways of the desert, Ramlah soon superseded him in sand bending, navigating, strategy, etc. Through her egalitarian principles, strong determination, and competence as a mercenary and raider, she has won the support of many in her tribe. As such, despite the Shayan's patriarchal traditions which forbid a woman to be the head of the clan, most consider Ramlah to be the rightful leader of the Shayan—a fact Khazem perceives as an obvious threat. Now, Ramlah is waiting for a chance to wrest control of the tribe from her greedy uncle's grasp before his egocentric recklessness destroys her tribe.
History
Personality
Appearance
Abilities
Earthbending
Sandbending
Otherskills
Relationships
Plot
Trivia
Ramlah is Arabic for sand. Shayan is Chinese for sandstone.
The Chinese characters for Ramlah's name, 燃辣 translate to "burning hot."
Quotes
Notes