This article, Terng, is property of Chix777.
The article Terng is a part of the growing Storm, which follows its guidelines accordingly.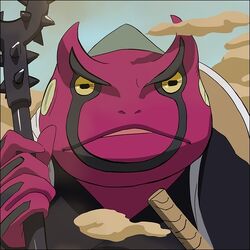 滕
Terng
Biographical information
| | |
| --- | --- |
| Alternative name(s) | Great Leaper |
Physical description
Personal information
| | |
| --- | --- |
| Fighting style(s) | Staffmenship, Spirit Energy |
Chronological and political information
| | |
| --- | --- |
| Position | Kai's spirit companion |
Terng (滕) is a Frog spirit hailing from the other side of the new Republic City Spirit Portal. Residing in the aquatic meadow and later the Republic City Spirit Wilds, he lived peacefully alongside humans in the balance Avatar Korra fought to achieve long ago. A skilled warrior, Terng has been seen as a protector to weaker spirits. After Kai's arrival in the United Republic, he journeyed into the Spirit Wilds, meeting with Terng. Becoming life-long friends, Terng later became the pro-bender's companion and personal mount. Following Kai's induction into the UR military, Terng decided to serve alongside his friend, continuing his pledge to protect the spirits of the United Republic.
Background
Personality
Appearance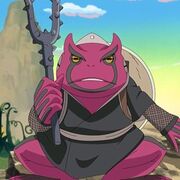 Abilities
Staffmenship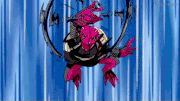 Energybending
Size Change
Trivia